Family Member Profiles: Destiny Soprano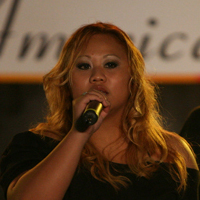 Artist Name:
Destiny Soprano
Role:
Singing Vocal Advisor, Song Review
Talents:
R&B and Pop songwriting, singing vocals, and sometimes rap lyrics and vocals
Details
:
The former DyMe sTeeZy is known for her love song writing and powerful vocals. She has recorded a few singles in the past and is currently in the process of recording covers and some new material.
Click
here
for music from Destiny Soprano.