Family Member Profiles: Harmony Speaks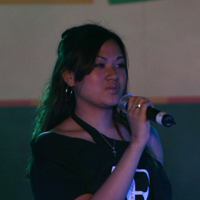 Artist Name:
Harmony Speaks
Role:
Singing Vocal Advisor - Harmony Specialist, Song Review
Talents:
R&B² [Rhythm&Blues fused with Rock and Broadway] Songwriter, Bass Player, Singing Vocal Performer
Details
:
Harmony Speaks, formerly known as tRe' sTeeLo, is MsP's resident harmony specialist. She has released a few singles in the past and also plays bass guitar for the Feebles.
Click
here
for music from Harmony Speaks.